The Certified Nurse-Midwives at Kootenai Clinic offer full service obstetrical and gynecological care throughout a woman's life span. These include teen counseling, pregnancy, childbirth, well woman care, family planning, treatment for menopause and other gynecological concerns. Our midwives provide individualized care and education for any of the services they provide.
Midwifery Services
Pre-conception care
Prenatal care
3-D and 4-D Ultrasounds
Labor support throughout delivery
Labor and delivery
Post partum care
Breastfeeding support
Family planning and birth control
Gynecology
Teen counseling
Physical exams
Breast exams
Vaginal and bladder infection treatment
Menopausal care
Saliva hormone testing
Bio-identical hormone replacement
Patient Experience – Amanda's Story
Why did you choose to work with a Certified Nurse Midwife at Kootenai Clinic OBGYN?
My husband and I wanted a natural experience and had a hard time deciding where to have our first child. We looked into birthing centers and home birth, but as first time parents, we were really stuck on the "what ifs." When we found out Kootenai had a midwife program we decided to check it out. Our first meeting with Ronda, a Certified Nurse Midwife, was very informative and our fears were put to rest. We decided to work with a Certified Nurse Midwife from Kootenai Clinic OBGYN and deliver at Kootenai Health. We were given the opportunity to give birth our way, but be in a facility where if something went wrong, all of the equipment and specially-trained professionals would be there and ready. Overall it was an amazing and beautiful experience.
What was your experience in participating in the small group prenatal care classes?
At one of our first appointments Rhonda, one of the Certified Nurse Midwives, asked if we would be interested in attending their small group prenatal classes. To be honest we didn't want to at first. But we decided to go to one and make our decision. After the first class we asked to be signed up. It was really nice knowing that there were so many other people that were going to be first time parents too, and we all had the same concerns, and were going through the same stages of pregnancy.
The Education
By the end of the classes I feel that I was well informed and much more ready to care for my new infant. I feel like the last thing a woman wants to worry about while giving birth is how to take care of their child, or wonder what will happen next. My husband and I had attended some classes outside of the midwifery program and we much prefer these sessions. The group classes are so great because they are much more discussion based. Questions come up during discussion which led the class to be much more informative.
It was also great to get to know the midwives and directly ask them the questions since they would be the ones actually delivering our child. I was so pleased that the classes had so much content. We learned everything from what could potentially go wrong and how it would be dealt with to going home with our baby.
I was just so informed about everything that birth was my only concern, which is the best way it could be. After birth I knew how to start nursing my child, I knew what to get to be prepared for postpartum recovery, The classes cover everything, we were even able to ask anonymous questions which was super helpful because some things are embarrassing to say out loud. I felt safe going home because I knew about safe sleep and what to look out for after having our child that could be a concern.
The Relationships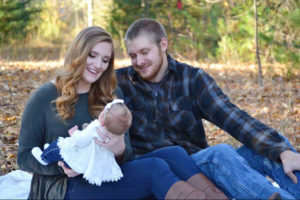 The care in this program extended far beyond your typical provider. They took care of me, my daughter, and my husband, including emotionally. I love the relationships we were able to build with our classmates as well. When I went to the hospital to have my daughter, someone from my class had just had hers, there was another couple next door and walking halls, and as we were leaving there was a couple walking in. In a high stress and painful situation it really is nice to see faces of people you recognize and know that they were right there with you, going through this life experience as well. (Learn more about our small group prenatal care classes here.)
What was your birth experience?
Let's just start off by saying my birth experience did not go as planned, but it turned out to be everything I wanted and more. I went in for a regular appointment at 41 weeks pregnant and my blood pressure had spiked, so I was to be sent to the hospital for induction immediately. I was completely against induction, but by talking to our midwife team, we decided it needed to happen. I was so scared that I was not going to be able to have a natural birth. The great thing about having the midwife team is they have seen and experienced so much. I was able to hear Rhonda's story about how she has given birth twice, once induced and once not, but the fact of the matter is that birth is birth and it is intense either way. I was terrified but our midwife told us that she would be there as much and as often as we needed her for labor support. She spent most of the day with us and was extremely comforting. Towards the end I was really struggling but she somehow encouraged me to continue naturally which is something I expressed that I wanted time and time again. I ended up having my almost 9 pound baby with no pain medication.
I was lucky that I was in the hospital for the birth of our daughter because she got stuck and was not wanting to be born. When she was born she came out blue, but because we were already at Kootenai Health she was fine and a doctor was able to come in and stitch me up. I love that I got a natural birthing experience with the medical attention that I needed.
At Kootenai Health
The new birth center is amazing. The beds were surprisingly comfortable and there was room for my husband and mom to stay and support me. I love the tub, it was so comforting during my worst contractions. Being a pregnant woman that threw up for 32 weeks, I loved that I was able to order what I wanted to eat, and the selection was great. The lactation consultant was very informative. The day after baby was born all of the staff were extremely helpful and respectful. If I was able to squeeze in a nap they did not wake me but came back later instead. They answered all of our questions and treated us with respect. I loved being treated like a friend rather than just a patient. The recovery rooms are also great I loved that I was able to take a shower, get somewhat rested, and relaxed before going home.
Last Thoughts
Overall it was an amazing and beautiful experience. I'd do it all over again just the way it happened. They say that whether we know it or not birth affects your emotions, and self for the rest of your life, and I believe it so it's extremely important to give birth the way you want to and have the right support team. I feel like I would not have known what to expect during labor or after with my newborn if it wasn't for this program. I am extremely thankful for it and loved my experience, we both did.
Patient Experience – Alyssa's Story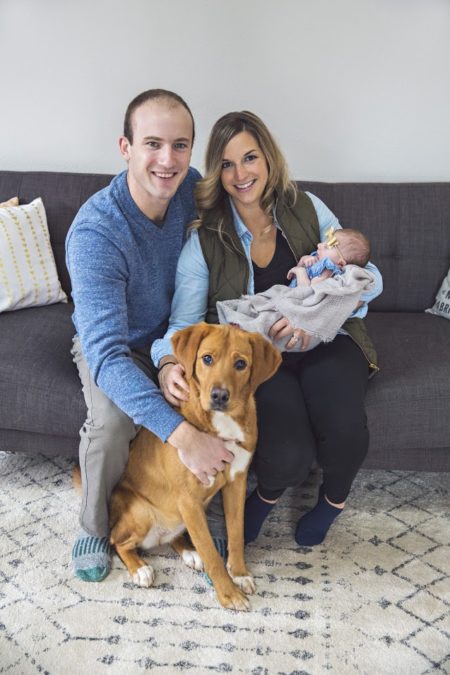 Why did you decide to work with a certified nurse midwife at Kootenai Clinic OB-GYN?
I decided to go with a Certified Nurse Midwife after I received a recommendation from my sister-in-law who delivered with them in the past.
What did you like about working with a Certified Nurse Midwife?
For me it was the perfect combination of natural and western medicine. The holistic approach was the right fit for me.
What was your experience in participating in the small group prenatal care classes?
My husband and I really enjoyed the group classes. For one, since our group was in the evening, my husband was able to be at every appointment and feel a part of the process. It was nice to go through these crazy body and life changes with a consistent group. We all got along great and were a support to one another. A group of us have been meeting at each other's houses for brunch once a week consistently since the babies were about a month old. We even try and do a once a month where all the dads can come as well! I imagine we will be life long friends.

How do you feel about the education your received?
It was great! I really appreciated having the education linked to the group prenatal class and felt like we could have more in-the-moment teaching. I always learned something new and useful.

How do you feel about the relationships you developed?
I got along with all the midwives and would have been happy with any of them being there for my delivery. All the midwives were professional, approachable, and caring.

What was your birth experience?
I was one of the lucky ones where my birth experience was almost just as planned. I decided to try and go all natural if I could and I felt really supported through all my labor. My labor nurse was great, allowing me to labor at ease in the tub; coming to me to monitor the baby and me. I felt like everyone was very present with my husband and I in that moment making sure the baby and I were safe and well cared for. I was really impressed by the partnership I felt with my midwife during labor. Her expertise and coaching really put my husband and I at ease. Dan was also very thankful to have someone tell him what to do and how to be helpful! Rhonda was with me from the time I was dilated at an 8 until the birth! We didn't find out what we were having and so after I pushed our baby out my husband, through tear-filled eyes announced it was a baby girl and cut the cord. It was an intense, raw, and the most magical experience I have ever had!
Our baby girl came into our world and we have been in awe of Gods perfect creation ever since.

What was your experience like at Kootenai Health?
Kootenai did a great job from triage, to labor, to post pardon, and all the follow-up checks. We have no complaints. The rooms were beautiful, clean, and spacious. My baby and I received great care!

What would you tell other women considering using a Certified Nurse Midwife and delivering at Kootenai Health?
Do it! You won't regret it!
Frequently Asked Questions
Is a midwife right for me?
When choosing a healthcare provider, women often have many questions. We are here to guide you to the decision that best suits your needs. Below are answers to some of our most frequently asked questions about midwifery. You may also call our office to learn more about the services we offer.
What is a certified nurse midwife (CNM)?
A certified nurse midwife (CNM) is a licensed health care practitioner who is educated in two disciplines, advanced practice nursing and nurse-midwifery. Each CNM is required to pass strict educational guidelines in order to be certified by the American College of Nurse-Midwives and licensed to practice in their state. Over 70 percent of CNMs hold a master's degree in nursing as well as a specialized education in midwifery.
What is the philosophy of a CNM?
Throughout history, the word midwife has been used to describe women who are "with women" at birth. CNMs focus on the physical, emotional and social needs of both the mother and family. They view birth as a natural process that often requires no intervention. However, in some situations the use of technology may be necessary to ensure a safe outcome for mother and baby. Our CMNs are comfortable utilizing these technologies when appropriate and maintain an excellent working relationship with physicians should their expertise be required.
What should I expect from the CNMs at Kootenai Clinic?
One of our CNMs is always on call, so you can usually be sure of having a known and trusted CNM at your birth. Your prenatal care will be balanced between CNMs, giving you an opportunity to establish a relationship with each of them. All deliveries are performed at Kootenai Medical Center and the CNMs are supportive of various pain management options, including epidural. CNM care is not just for pregnancy; once your childbirth needs are met you may continue to see your provider for all of your women's health concerns.
Locations
Chinook Medical Building
980 W. Ironwood Dr. Ste 306
Coeur d'Alene, Idaho 83814
(208) 625-4970
Monday – Friday: 7:30 am – 5:00 pm
We're located on Ironwood Drive between US-95 and Northwest Blvd inside Chinook Medical Bldg.
Kootenai Clinic Post Falls
1300 East Mullan
Post Falls, Idaho 83854
(208) 625-4970
Monday – Thursday: 8 a.m. – 5 p.m . and Fridays 8 a.m. – 4 p.m.
We're located on Mullan Avenue between Idaho St. and Syringa St.