Kootenai Health has a team of board-certified orthopedic surgeons and specially trained staff who are dedicated to improving the quality of life of our patients. The goal of our program is to help patients reach their highest level of functionality following an orthopedic injury or elective orthopedic surgery.
We want all our patients to live a healthy, happy lifestyle and get back to doing what they love.
Our orthopedic services include emergency orthopedic care for breaks and fractures, advanced diagnostic imaging, sports medicine, rehabilitation, surgery, pain management and joint replacements for knees, hips and shoulders.
Kootenai Health's Total Joint Program
Kootenai Health's Total Joint Program is a collaborative effort between local participating surgeons and hospital staff. The program ensures our patients having hip, knee or shoulder replacement surgery have a safe and successful recovery.
The Advantages of Kootenai Health's Total Joint Program
Patients receive care from northern Idaho's only Center of Excellence for Hip and Knee Replacement surgery
Patients have access to an orthopedic navigator nurse practitioner that works with patients and their families to guide them through the surgical process
Pre-surgery education allows patients to clearly understand the surgical process and how to have a successful total joint replacement surgery
More than 80 percent of our patients return home safely and successfully immediately upon discharge from the hospital
Most people return home the day following surgery
Our program produces high-quality patient outcomes and excellent patient satisfaction
Not sure if you need surgery?
For many people struggling with joint pain, knowing when to seek help from a surgeon is sometimes difficult. For some, the onset of pain is gradual and leads to a slow decrease in their activity level over time, while for others the onset of pain can be sudden and results in a dramatic decrease in their ability to function in their everyday life.
Below is a short list of some decision points, which can help patients know when to seek the advice of an orthopedic surgeon.
Severe pain limiting activities and enjoyment of daily living: This is the most important indication for surgical consideration and is what most often brings patients to see a doctor.
Increasing deformity: Many patients find that their joint becomes deformed over time. For knee patients, this may appear as "bowlegged" or "knock-kneed." If ignored for too long, some of these deformities can become difficult to correct with surgery.
Decreasing range of motion: Most of the time, pain experienced by patients with arthritis is a result of the inflammation that often accompanies the wear process. This inflammation causes swelling and bone spurs, both of which can decrease a patient's motion. It can be difficult to regain all of the lost motion even with surgery. Seeking advice from a surgeon before too much motion is lost is important.
Failure of non-surgical treatments for pain control such as injections and NSAIDs
Virtual Tour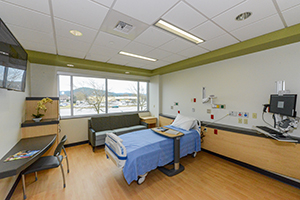 Wondering about total joint replacement for yourself or loved one? Dr. Jonathan Linthicum from Kootenai Clinic Orthopedics discusses how to know when the time is right for joint replacement and what to expect during the process.
When the pain from arthritis was too much, Gina worked with Dr. Bowen at Kootenai Clinic Orthopedics to undergo total knee replacement surgery and get back to the activities she loves.
After discovering arthritis in her hip and living with the pain for several years, Sue decided it was time to work with Kootenai Clinic Orthopedic's Dr. Linthicum to explore more options. After her total hip replacement, Sue feels better than ever.