The Kootenai Health patient-transport program was made possible by the generous community-minded supporters of the 1995 Kootenai Health Foundation Festival of Trees.
That event allowed the purchase of the program's first vehicles. In 2002, the Kootenai Health Auxiliary added a new wheelchair equipped van to the fleet. The day-to-day program costs are covered by Kootenai Health.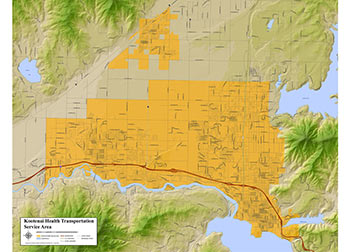 How can I get a ride?
To schedule a ride, call (208) 625-5030 Monday through Friday. Transportation Services needs at least notice 24 hours prior to your scheduled ride time. Rides are scheduled on a first-come, first-served basis so it is recommended you schedule a ride as far in advance as possible. When you call, a dispatcher will ask for your address, appointment information and if you need any other special arrangements, such as wheelchair accommodations.
They operate:
Monday-Friday (greater Coeur d'Alene area)
Tuesday and Thursday (Rathdrum area)
Still have questions? Visit Transportation Services' frequently asked questions section for more information.
Transportation Request Form