Meet Kootenai Clinic's newest oncologist, Jeff Allen, M.D.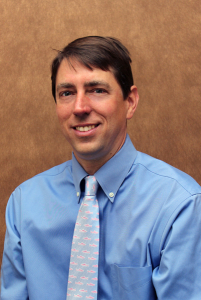 Tell us a little bit about you and your family:
Though my wife and I are native Californians, our academic and professional lives have brought us opportunities to live in upstate New York, western Tennessee, rural northern California, and now the Inland Northwest. Along the way, our family has grown with the addition of our son (age 10) and our daughter (age 6). With our extended family stretching from the Puget Sound to the desert southwest, we feel that northern Idaho is the perfect location for our family to settle down.
Why did your pick your specialty?
My interest in hematology/oncology started while I was an undergraduate studying biochemistry and molecular biology and grew stronger while I was in medical school. By the time I started my internal medicine residency, I had already decided that I was destined to continue my training with a fellowship in hematology/oncology. From the fascinating inner workings of cancer cells to the never-ending stream of advances in clinical care, hematology/oncology is a field that is constantly evolving. It is exciting and humbling to be contributing to the greater good through my participation in clinical research, while hugely fulfilling to be taking care of patients who are on their way to recovery following a cancer diagnosis.
What can patients expect when they show up for their first appointment with you?
Facing a diagnosis of cancer can be a daunting experience and I want my patients to know that their treatment team will be with them at every step of the way on their journey. As a physician, I believe strongly that one of my most important duties is to educate my patients about their diagnosis and about the treatment options that are available to them. I strive to make sure my patients have a good understanding of their disease and of the treatment options available to them, and I want my patients to feel that they are equal partners in the care that they receive.
What are some of your hobbies?
Our family enjoys the great outdoors, be it hiking, biking, playing sports, etc. With two young children, it is rare for us to not be occupied with some sort of game or activity. When I do have time, I enjoy photography and look forward to the beautiful landscapes and sunsets of northern Idaho.
What drew you to Kootenai Health?
During my visits to Kootenai Health, the dedicated staff and top-notch facilities amazed me. Kootenai Health has a robust clinical research program and a long track record of outstanding patient care. When I was looking for a new opportunity, Kootenai Health stood head and shoulders above the crowd as a program which delivers big-city cancer care with a small-town feel. When coupled with the natural beauty and abundant activities in northern Idaho, it was an easy decision for our whole family.
Learn more about Cancer Services at KH.org/Cancer